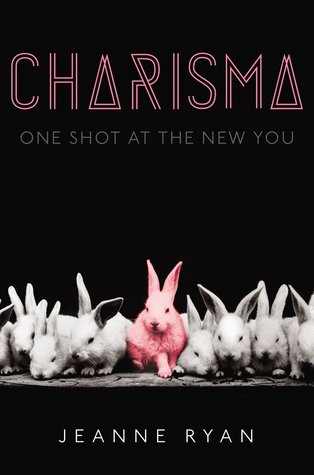 Title – Author: Charisma – Jeanne Ryan
Publisher: Dial Books
Release Date: March 3, 2015
Series/Standalone: Standalone
Format – Source: ARC – Publisher
A chance at the ultimate makeover means deadly consequences in this Sarah Dessen-meets-Robin Cook thriller

Aislyn suffers from crippling shyness—that is, until she's offered a dose of Charisma, an underground gene therapy drug guaranteed to make her shine. The effects are instant. She's charming, vivacious, and popular. But strangely, so are some other kids she knows. The media goes into a frenzy when the disease turns contagious, and then deadly, and the doctor who gave it to them disappears. Aislyn must find a way to stop it, before it's too late.

Part medical thriller, part social justice commentary, Charisma will have readers on the edge of their seats. (via Goodreads)
Charisma is a bit out of my comfort zone. While I love thrillers in movie form, I rarely read books in the genre. I'm going to have to remedy that, because Charisma charmed me (see what I did there?).
One thing that really struck me about the story is how realistic it felt. Even though there are tons of laws that should stop such a situation from arising, I understood how a lone doctor could want to bypass all the regulations to reach a cure. And this is just one of the ethical dilemmas that arise in the story.
I immediately related to Aislyn. She has crippling shyness, and while I don't have it to the extreme she does, I have definitely felt the same way as her in social situations. I've always been shy, and it took me a long time to accept that about myself.
Because I related so much to Aislyn, I found myself contemplating what I would do in her situation. I've been thinking a lot about whether or not I would take Charisma if it was offered (if there were no side effects or if I didn't know them, like Aislyn initially doesn't). Honestly, as a teenager, I'm pretty sure I would've taken it. Growing up in America, everything is geared towards extroverted students. Presenting in front of the class or being called on to answer a question would make me feel nauseous. I would've loved an easy solution to that.
The story flows really quickly; trying to figure out how everything would be resolved kept me turning the pages. It felt very hopeless at times and even though the teens chose to take the drug, I felt for them. They're manipulated by someone they trusted and the consequences were high.
Charisma raises a lot of ethical questions that will keep you thinking long after you turn that last page.