Today, I'm thrilled to welcome Jeanne Ryan, author of Charisma, to the blog to discuss one of the many ethical questions that arose from my reading the novel (read my review here). Before we tackle the hard stuff, here's more about the book: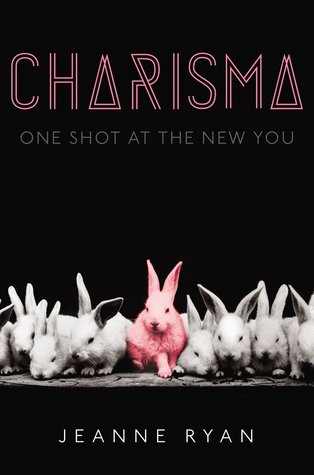 A chance at the ultimate makeover means deadly consequences in this Sarah Dessen-meets-Robin Cook thriller

Aislyn suffers from crippling shyness—that is, until she's offered a dose of Charisma, an underground gene therapy drug guaranteed to make her shine. The effects are instant. She's charming, vivacious, and popular. But strangely, so are some other kids she knows. The media goes into a frenzy when the disease turns contagious, and then deadly, and the doctor who gave it to them disappears. Aislyn must find a way to stop it, before it's too late.

Part medical thriller, part social justice commentary, Charisma will have readers on the edge of their seats. (via Goodreads)
—
Here was my question to the author:
One of my favorite aspects of the novel were the ethical questions raised by the creation and use of Charisma. I've been thinking on this question a lot since I finished reading and would love to hear your answer. Would you take Charisma (assuming the side effects are unknown/there aren't any)?
Jeanne Ryan:
Although I wouldn't have taken it as a teen (see March 3rd post on Bookish Antics), as an adult, I'd consider it if it were tested and safe. There are so many causes I'd love to promote if I had better persuasion skills. For example, fighting against human trafficking, working toward solutions for poverty, hunger, and global warming. Clearly, Charisma powers could be used for a world of good.
I believe this question also involves an existential debate around what it means to be one's self. The more I learn and understand about biology and psychology, the less I'm convinced that the self is some magic entity, as unique as a snowflake and sacred as church. More likely, it's the result of a complex equation involving millions of variables that hail from both the nature and nurture camps.
We've already witnessed how drugs can change a personality for the better when it comes to conditions such as schizophrenia, bipolar disorder, OCD, etc… (Often including cumbersome side effects). On meds, are those patients really "themselves?" And, I would argue, does it truly matter?
Yet, even though my own introversion often makes life challenging, I've gotten used to living this version of me. And the people around me have gotten used to this version as well. Changing into someone more charismatic would mean reestablishing most if not all of my relationships. And I wonder if I'd still possess the empathetic and observational skills I've honed from my spot at the edge of the crowd. There's a certain contentment and even joy to be found in contemplation. (For a fantastic look into this topic, I highly recommend the book Quiet: The Power of Introverts in a World That Can't Stop Talking by Susan Cain.)
But, you know what? Change can be fun. And I've had plenty of years to experience life on this side of the introversion/extroversion divide. So, despite all my existential musing, if a drug like Charisma were completely safe, I think, yes, I'd give it a go, and then change the world. Because I'd have no more excuses, right?
—
I've lived all over the world, raised in a family with eleven brothers and sisters. I spent my early childhood in Hawaii and the rest of my growing-up years trying to figure out a way to get back there, with stops in South Korea, Michigan and Germany along the way. Before writing fiction, I tried my hand at many things, including war game simulation and youth development research. But I decided it was much more fun to work on stories than statistics.
These days, I still love Hawaii, but have found my home under the moody skies of the Pacific Northwest.
—
Now let's take it to the comments! What do you guys think? Would you take Charisma?