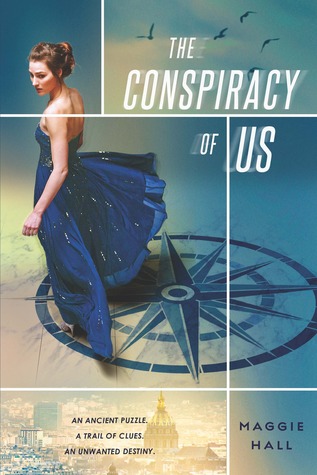 Title – Author: The Conspiracy of Us – Maggie Hall
Publisher: Putnam Juvenile
Release Date: January 13, 2015
Series/Standalone: Series – The Conspiracy of Us #1
Format – Source: Hardcover – Publisher
A fast-paced international escapade, laced with adrenaline, glamour, and romance–perfect for fans of Ally Carter

Avery West's newfound family can shut down Prada when they want to shop in peace, and can just as easily order a bombing when they want to start a war. Part of a powerful and dangerous secret society called the Circle, they believe Avery is the key to an ancient prophecy. Some want to use her as a pawn. Some want her dead.

To unravel the mystery putting her life in danger, Avery must follow a trail of clues from the monuments of Paris to the back alleys of Istanbul with two boys who work for the Circle—beautiful, volatile Stellan and mysterious, magnetic Jack. But as the clues expose a stunning conspiracy that might plunge the world into World War 3, she discovers that both boys are hiding secrets of their own. Now she will have to choose not only between freedom and family–but between the boy who might help her save the world, and the one she's falling in love with. (via Goodreads)
This book was so much FUN. I read through it in one sitting, and it was exactly what I needed. I had just finished a reread of His Dark Materials and I was a bit emotionally wrecked and really wanted a book that was light and fun. It reads like an action movie, with mysteries and murder and absurdly rich people.
The span of this story is much larger than just one girl discovering more about her family. It involves the fate of the world and ties into the most historically famous people and events. Even though the stage is big, I liked how relatable Avery was. She felt real, with her struggles in self-isolation and her loneliness. I also appreciated how realistic her reactions are. She's thrown into this crazy, impossible world and she reacts with shock and fear and tears. She doesn't just accept everything, she waits until she has more facts.
You do have to suspend a bit of belief when it comes to the Circle. There's a lot of history re-writing here, but if you forget what actually happened, it becomes a dangerous and crazy adventure. I'm excited to see where the puzzle will take the characters next and I can't wait to find out what will be revealed.
The Conspiracy of Us is a fast-paced, fun novel where mysteries and danger abound.