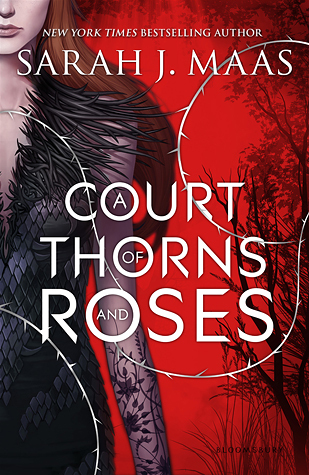 Title – Author: A Court of Thorns and Roses – Sarah J. Maas
Publisher: Bloomsbury Children's
Release Date: May 5, 2015
Series/Standalone: Series – A Court of Thorns and Roses #1
Format – Source: ARC – Publisher
A thrilling, seductive new series from New York Times bestselling author Sarah J. Maas, blending Beauty and the Beast with faerie lore.

When nineteen-year-old huntress Feyre kills a wolf in the woods, a beast-like creature arrives to demand retribution for it. Dragged to a treacherous magical land she only knows about from legends, Feyre discovers that her captor is not an animal, but Tamlin—one of the lethal, immortal faeries who once ruled their world.

As she dwells on his estate, her feelings for Tamlin transform from icy hostility into a fiery passion that burns through every lie and warning she's been told about the beautiful, dangerous world of the Fae. But an ancient, wicked shadow grows over the faerie lands, and Feyre must find a way to stop it . . . or doom Tamlin—and his world—forever.

Perfect for fans of Kristin Cashore and George R. R. Martin, this first book in a sexy and action-packed new series is impossible to put down!  (via Goodreads)
ACOTAR was one of my most highly anticipated books of 2015 and oh boy did it deliver. I haven't read too many faerie stories, but I fell into this one so quickly. Sarah excels at creating vivid atmospheres; the Spring Court feels real even though nothing is as it seems. Mystery imbues every aspect of the world Feyre is thrust into. The reader gets to discover the truth alongside Feyre.
Of course, my favorite parts of any Sarah J. Maas novel are the characters. What I love about Feyre is that she makes mistakes, huge mistakes, but she never gives up. She's tough and fierce and vulnerable. Then there are the hot guys. Yes, multiple hot guys. Hot guys coming out of the woodwork. You can't make a step in the Spring Court without running into one. That's the kind of fantasy world I can get behind. Tamlin, Lucien, and Rhys are drop dead gorgeous. In order of favorites, mine go Lucien, Rhys, and Tamlin. I know how much you wanted to know that.
Though this book is billed as a retelling of Beauty and the Beast and Tam Lin, the story is wholly its own. And those are the best kind of retellings: the ones that take familiar elements of beloved stories and remake them into something unique.
A Court of Thorns and Roses is a perfectly choreographed start to a series set against a stunning backdrop of faerie lore and with a smart, strong heroine readers will fall for.