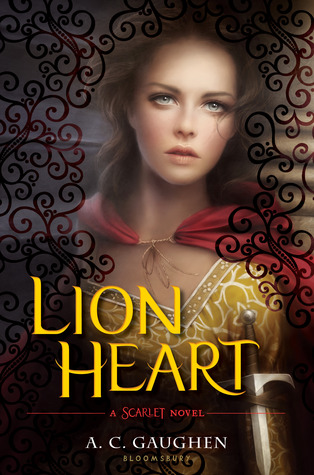 Title – Author: Lion Heart – A. C. Gaughen
Publisher: Bloomsbury USA Childrens
Release Date: May 19, 2015
Series/Standalone: Series – Scarlet #3
Format – Source: ARC – Publisher
The eagerly-awaited conclusion to the Scarlet trilogy delivers another action-packed and romance-filled adventure.

Scarlet has captured the hearts of readers as well as the heart of Robin Hood, and after ceaseless obstacles and countless threats, readers will finally find out the fate of the Lady Thief.

Imprisoned by Prince John for months, Scarlet finds herself a long way from Nottinghamshire. After a daring escape from the Prince's clutches, she learns that King Richard's life is in jeopardy, and Eleanor of Aquitaine demands a service Scarlet can't refuse: spy for her and help bring Richard home safe. But fate—and her heart—won't allow her to stay away from Nottinghamshire for long, and together, Scarlet and Rob must stop Prince John from going through with his dark plans for England. They can not rest until he's stopped, but will their love be enough to save them once and for all? (via Goodreads)

I read this five months ago, the second I received the ARC in the mail, and it still hasn't hit me that such a beloved series is over. A part of me feels bereft that I won't get any more of Scar and Rob's story, but then I remember that I can reread the series over and over again.
Scarlet's journey hasn't been an easy one. She has faced cruelty, loss, and heartbreak over her life, but she comes out stronger than ever. One of the things I like most about her is that she starts the series with the kind of power we expect from the heroes of stories like this one. She protects the innocent, she stands up for injustice, she fights when there isn't much hope. It's truly an amazing thing to watch her realize that she has power of a different kind, a power she's been running from for a long time: that being a lady is a source of strength, that her title and heritage can make a difference.
And as she grows into her own, and becomes more comfortable in her skin, she grows closer to Rob. The two of them complement each other so well that it makes you want to shake them for taking so long to figure it out! Their connection is real and deep and unbreakable despite the obstacles their enemies throw in their path.
The narrative speech has been commented on a lot. I can see how readers might find that it makes it harder to get into the story. But I loved it and here's why. Robin Hood is a legend; a figure so steeped in mythology that he seems untouchable. Gaughen takes this legend and makes it human, all through the eyes of the very human Scarlet. I loved being so close to Scarlet's thoughts, her doubts and fears and laughs, all the little things that make her feel real. This legend became personal, and that's why it'll hold a place in my heart for a long time to come.

Lion Heart is a beautiful conclusion to a series that will grip your heart and never let go.