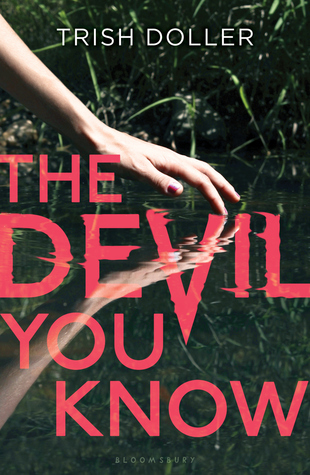 Title – Author: The Devil You Know – Trish Doller
Publisher: Bloomsbury USA Childrens
Release Date: June 2, 2015
Series/Standalone: Standalone
Format – Source: e-ARC – Publisher via NetGalley
Eighteen-year-old Arcadia wants adventure. Living in a tiny Florida town with her dad and four-year-old brother, Cadie spends most of her time working, going to school, and taking care of her family. So when she meets two handsome cousins at a campfire party, she finally has a chance for fun. They invite her and friend to join them on a road trip, and it's just the risk she's been craving-the opportunity to escape. But what starts out as a fun, sexy journey quickly becomes dangerous when she discovers that one of them is not at all who he claims to be. One of them has deadly intentions.

A road trip fling turns terrifying in this contemporary story that will keep readers on the edge of their seats. (via Goodreads)

I've been in a thriller mood recently, which is very OOC for me. I love movie thrillers, but I've never really had a taste for them in book form. But after a couple successful reads, I found The Devil You Know to sound particularly appealing, and it definitely delivers on the thrilling front.
You really get to know the characters here; all are complex, with different but understandable motives. I related a lot to Cadie and her need to escape from her life for a bit. She loves her family, but she's had to take on responsibilities that never should've been hers after her mother died. I admired her for speaking up when something bothered her, for taking action, and for being brave in the face of something terrifying. Cadie's choices have devastating consequences, and I appreciated how her story wrapped up in the end because it shows real growth.
The twist is easy to guess early on in the novel, but that didn't diminish my enjoyment of the story. I just HAD to know how it was all going to play out and what the next move would be. Doller excels at balancing the emotionally charged scenes with the tense, frightening ones full of action. She writes both with equal skill.

The Devil You Know is a dangerously compelling story charming characters and hidden darkness that will totally suck you in.