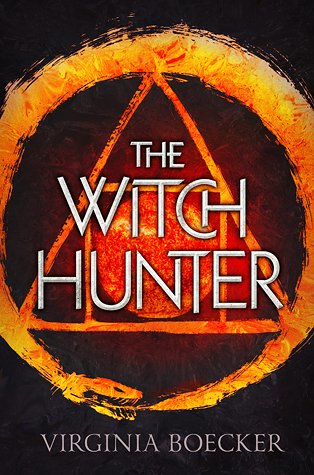 Title – Author: The Witch Hunter – Virginia Boecker
Publisher: Little, Brown Books for Young Readers
Release Date: June 2, 2015
Series/Standalone: Series – The Witch Hunter #1
Format – Source: e-ARC – Publisher via NetGalley
The magic and suspense of Graceling meet the political intrigue and unrest of Game of Thrones in this riveting fantasy debut.

Your greatest enemy isn't what you fight, but what you fear.

Elizabeth Grey is one of the king's best witch hunters, devoted to rooting out witchcraft and doling out justice. But when she's accused of being a witch herself, Elizabeth is arrested and sentenced to burn at the stake.

Salvation comes from a man she thought was her enemy. Nicholas Perevil, the most powerful and dangerous wizard in the kingdom, offers her a deal: he will save her from execution if she can break the deadly curse that's been laid upon him.

But Nicholas and his followers know nothing of Elizabeth's witch hunting past–if they find out, the stake will be the least of her worries. And as she's thrust into the magical world of witches, ghosts, pirates, and one all-too-handsome healer, Elizabeth is forced to redefine her ideas of right and wrong, of friends and enemies, and of love and hate.

Virginia Boecker weaves a riveting tale of magic, betrayal, and sacrifice in this unforgettable fantasy debut.  (via Goodreads)
Oh boy did this book have a hook that had "me" written all over it. A witch hunter accused of being a witch and saved by the most wanted wizard in the country? Sign me up! While I did race through this story, I had some reservations.
What I was not expecting was how fun this story was. The synopsis sounds very doom and gloom, and given that there are witch burnings regularly in this world, I thought it would be a lot more dark. I think this ended up working for the story, because the straight-forward narration kept the action flowing.
I was definitely fascinated by the world-building. There are witch hunters protected from injury by a spell, necromancers who summon ghouls, revenants who summon snark, and frightening fear illusions. I wanted to see more of the magic, period.
The weakest points of the story for me were the characters. They all ended up feeling rather flat to me and not as well-developed as I like, especially the main character, Elizabeth didn't have a distinct personality, so I didn't feel like I connected with her. The side characters, while better developed, felt too cardboard-cutout to me. There's the wise, all-powerful wizard, the pretty girl you think is a bitch but isn't, the perfect love interest (seriously…he doesn't seem to have any flaws), and the wise-cracking sidekick.

The Witch Hunter, while not living up to all of my expectations, was still a highly entertaining read.