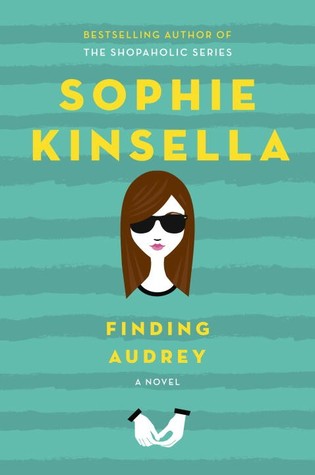 Title – Author: Finding Audrey – Sophie Kinsella
Publisher: Delacorte Books for Young Readers
Release Date: June 9, 2015
Series/Standalone: Standalone
Format – Source: ARC – Publisher
From the #1 New York Times bestselling author of the Shopaholic series comes a terrific blend of comedy, romance, and psychological recovery in a contemporary YA novel sure to inspire and entertain.

An anxiety disorder disrupts fourteen-year-old Audrey's daily life. She has been making slow but steady progress with Dr. Sarah, but when Audrey meets Linus, her brother's gaming teammate, she is energized. She connects with him. Audrey can talk through her fears with Linus in a way she's never been able to do with anyone before. As their friendship deepens and her recovery gains momentum, a sweet romantic connection develops, one that helps not just Audrey but also her entire family. (via Goodreads)
I haven't read a Sophie Kinsella book before (I know, I KNOW), but Finding Audrey made me want to pick up her books. Despite the heavy subject matter, it's a story told with a lighter hand and some laugh-out-loud moments.
What hooked me right away was Audrey's voice. I loved that she was telling the story, and her voice was so vibrant that I immediately wanted to know her. Her observations of her family are hilarious, as are her other family members, from her overreacting mother to her absent-minded father to her game-obsessed big brother to her obliviously happy baby brother. They're one big messy family, and I loved their interactions.
I really appreciated how this story doesn't actually name what happened to Audrey. We know it involved some girls from her school, but we don't know any specifics. In this way, the focus of the story isn't on the incident itself, but on Audrey's recovery and her steps to move on.
Finding Audrey is a smart, funny story with a lot of heart that delves into deeper topics like mental health and recovery in a respectful, honest way.