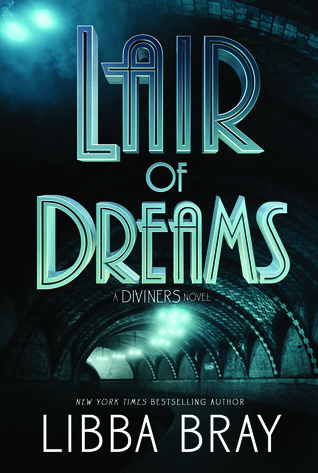 Title – Author: Lair of Dreams – Libba Bray
Publisher: Little, Brown Books for Young Readers
Release Date: August 25, 2015
Series/Standalone: Series – The Diviners #2
Format – Source: e-ARC – Publisher via NetGalley
After a supernatural showdown with a serial killer, Evie O'Neill has outed herself as a Diviner. Now that the world knows of her ability to "read" objects, and therefore, read the past, she has become a media darling, earning the title, "America's Sweetheart Seer." But not everyone is so accepting of the Diviners' abilities…

Meanwhile, mysterious deaths have been turning up in the city, victims of an unknown sleeping sickness. Can the Diviners descend into the dreamworld and catch a killer? (via Goodreads)
Libba Bray is the berries, folks. She completely delivers with Lair of Dreams, a terrifying, atmospheric, and witty novel that I was happily engrossed in.
The strongest parts of the first novel for me were the characters, and that was once again the case with the sequel. I love everyone, including the new addition, Ling. This a group of characters who will make you laugh, swoon, shake your fist, and cry alcohol-infused tears. I love every single one of our crazy Diviners and I'm kind of crazy nervous that something awful is going to happen to my precious babies.
Once again, Libba perfectly balances the smaller plot line of this book (dreams that can literally kill you) with the series' overall arc of something evil creeping ever closer. While Evie and her friends battle dream creepies and emotional turmoil, you can sense something larger at play.
Lair of Dreams is a pos-i-tutely fabulous follow-up to The Diviners.