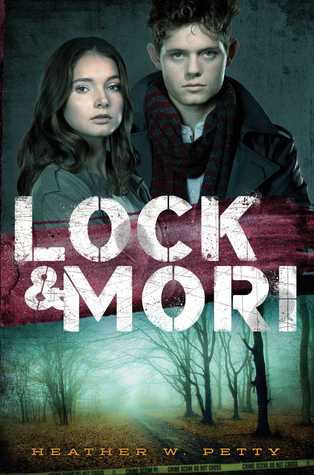 Title – Author: Lock & Mori – Heather W. Petty
Publisher: Simon & Schuster Books for Young Readers
Release Date: September 15, 2015
Series/Standalone: Series – Lock & Mori #1
Format – Source: e-ARC – Publisher via Edelweiss
FACT: Someone has been murdered in London's Regent's Park. The police have no leads.

FACT: Miss James "Mori" Moriarty and Sherlock "Lock" Holmes should be hitting the books on a school night. Instead, they are out crashing a crime scene.

FACT: Lock has challenged Mori to solve the case before he does. Challenge accepted.

FACT: Despite agreeing to Lock's one rule—they must share every clue with each other—Mori is keeping secrets.

OBSERVATION: Sometimes you can't trust the people closest to you with matters of the heart. And after this case, Mori may never trust Lock again.(via Goodreads)
I wouldn't say I'm a Sherlock Holmes fan, though I do really enjoy both the Robert Downey Jr. movies and the Benedict Cumberbatch series. I've considered watching Elementary too since I love Lucy Liu (side note: does anyone watch this? Let me know in the comments if you think it's worth it!). It seems like Sherlock is everywhere these days, but when I read the summary for Lock & Mori, it sounded like a completely new take on these classic characters.
I went into the novel with only a little background on the characters (Sherlock solves crimes, Moriarty is his nemesis). I love a villain origin story, and reading Mori's narration knowing (or rather assuming, since you never know if the author will go in a completely different direction!) where she's headed in the future definitely created a lot of tension. I kept waiting for a moment when she would tip over into her darker side. While this book is only the beginning, the ending definitely started connecting the dots between Mori, the teeange girl with a difficult home life, to Moriarty, criminal mastermind. This is something the author does so well: the story is new, but you can feel how this episode fits in the larger scale of the classic epic.
The weakest point to me was the romance between Sherlock and Mori. I initially really liked the idea of a romance between the two, but it felt rather rushed and forced at times. Luckily, I don't often read books for the romance, so there was plenty to keep me interested. The mystery of the murders and how they connect to Mori's family was fascinating and I loved seeing Mori put all the pieces together.
Lock & Mori is a solid start to a series centered around a thrilling and terrifying murder mystery and ending with the hint of more to come.