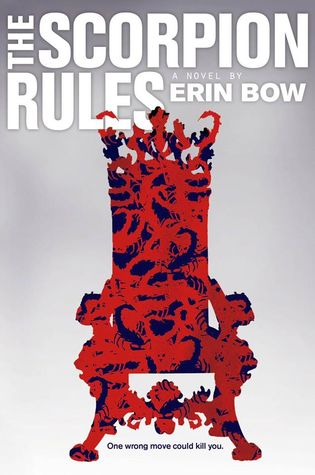 Title – Author: The Scorpion Rules – Erin Bow
Publisher: Margaret K. McElderry Books
Release Date: September 22, 2015
Series/Standalone: Series – Prisoners of Peace #1
Format – Source: e-ARC – Publisher via NetGalley
A world battered by climate shift and war turns to an ancient method of keeping peace: the exchange of hostages. The Children of Peace – sons and daughters of kings and presidents and generals – are raised together in small, isolated schools called Preceptures. There, they learn history and political theory, and are taught to gracefully accept what may well be their fate: to die if their countries declare war.

Greta Gustafsen Stuart, Duchess of Halifax and Crown Princess of the Pan-Polar Confederation, is the pride of the North American Precepture. Learned and disciplined, Greta is proud of her role in keeping the global peace, even though, with her country controlling two-thirds of the world's most war-worthy resource — water — she has little chance of reaching adulthood alive.

Enter Elián Palnik, the Precepture's newest hostage and biggest problem. Greta's world begins to tilt the moment she sees Elián dragged into the school in chains. The Precepture's insidious surveillance, its small punishments and rewards, can make no dent in Elián, who is not interested in dignity and tradition, and doesn't even accept the right of the UN to keep hostages.

What will happen to Elián and Greta as their two nations inch closer to war? (via Goodreads)
I wanted to love this book and I went back and forth quite a bit in my feelings of it. Still, a few days later, I feel conflicted. Because I did read through it rather quickly, and I never once felt bored. And yet…I still don't know if I liked it or if I would recommend it to others.
Let's start off with what did work for me: Talis, the AI overlord of this dystopian world. He's a mix of terrifyingly predictable and surprising, with a touch of unexpected human vulnerability. In short, he's fascinating, and the best character in the novel.
I also liked the friendships between Greta and her cohort. In a situation like this, where any hostage could die at any time, they just as easily could've separated themselves from each other and never grew close. But instead they chose each other, supporting and protecting each other. I think a lot of the book is about choices: the ones you can make and the ones you were never given.
This is the second review I've written this week where the romance just didn't do it for me. Clearly, I need to find something I like stat! There's a sort-of love triangle, which isn't my favorite. And I think I would've preferred if Greta was just friends with them both. The friendships were so strong that it almost felt as though the romance was thrown in as part of a YA-dystopian formula.
The Scorpion Rules had an interesting premise and some good points in its favor, but ultimately, this wasn't the book for me.