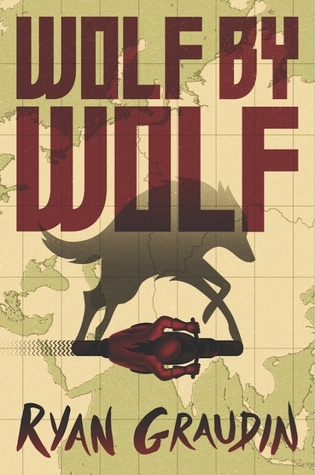 Title – Author: Wolf By Wolf – Ryan Graudin
Publisher: Little, Brown Books for Young Readers
Release Date: October 20, 2015
Series/Standalone: Duology – Wolf By Wolf #1
Format – Source: ARC – Publisher
Code Name Verity meets Inglourious Basterds in this fast-paced novel from the author of The Walled City.

The year is 1956, and the Axis powers of the Third Reich and Imperial Japan rule the world. To commemorate their Great Victory over Britain and Russia, Hitler and Emperor Hirohito host the Axis Tour: an annual motorcycle race across their conjoined continents. The victor is awarded an audience with the highly reclusive Adolf Hitler at the Victor's ball.

Yael, who escaped from a death camp, has one goal: Win the race and kill Hitler. A survivor of painful human experimentation, Yael has the power to skinshift and must complete her mission by impersonating last year's only female victor, Adele Wolfe. This deception becomes more difficult when Felix, Adele twin's brother, and Luka, her former love interest, enter the race and watch Yael's every move. But as Yael begins to get closer to the other competitors, can she bring herself to be as ruthless as she needs to be to avoid discovery and complete her mission? (via Goodreads)
THIS BOOK. Goddamn it, this book. I literally could not put it down. I was walking around my apartment with it in my hand because I just had to keep turning the pages. Put this one on your immediate to-buy list, people. It's worth every penny.
So where do I start? With where this story begins and ends: Yael. Yael. God, even weeks later, I'm still thinking about her. I loved, understood, and rooted for Yael on every page. She's the kind of character who both breaks your heart and mends it. Her story is one of revenge, yes, but it's also about the simple fact of identity. Who is she, when she can't even remember what her real face looked like? Is she the girl a sick, twisted doctor created, the girl who lost her entire family, or someone else entirely?
While at the heart of the novel is the gripping, emotional story of Yael's past, there's also the sweeping epic of a world where the Axis powers won. A world where all eyes turn to a motorcycle race of endurance, cutthroats, and alliances. Once the race begins, it's one twist after another. Every second of the race is so thrilling that it feels real.
AND THAT ENDING. What a twist! It opens up so much more possibility for a world that's already fascinating and compelling. I can't freaking wait for what happens next. I just know it's going to be good. And by good, I mean a punch in the heart.
Wolf by Wolf is a powerful, tense, and thrilling story of revenge, identity, and sacrifice that will hit readers emotionally and leave them begging for more.