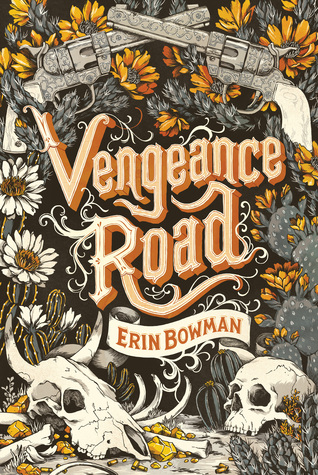 Title – Author: Vengeance Road – Erin Bowman
Publisher: HMH Books for Young Readers
Release Date: September 1, 2015
Series/Standalone: Standalone
Format – Source: e-ARC – Publisher via Edelweiss
When Kate Thompson's father is killed by the notorious Rose Riders for a mysterious journal that reveals the secret location of a gold mine, the eighteen-year-old disguises herself as a boy and takes to the gritty plains looking for answers and justice. What she finds are devious strangers, dust storms, and a pair of brothers who refuse to quit riding in her shadow. But as Kate gets closer to the secrets about her family, she gets closer to the truth about herself and must decide if there's room for love in a heart so full of hate.

In the spirit of True Grit, the cutthroat days of the Wild West come to life for a new generation. (via Goodreads)
This book is one wild ride. It starts with a murder and just picks up pace from there. I didn't want to put it down for a second because I knew Kate was getting into some kind of trouble just around the corner.
I absolutely adored Kate Thompson. She's bold, brash, and a woman of action. When her father is murdered, she immediately sets out to get revenge. It's so important to have female main characters with agency and I loved how even when Kate was faced with impossible and dangerous situations, she doesn't give up. Her actions have consequences, and she struggles with the emotional fallout of what she does. Even on this long, tough road, she doesn't lose her humanity.
Bowman does a masterful job at building the wild wild west atmosphere. Every detail of her world feels so real that at times I found myself wanting to quit my job and go traipsing around the mountains looking for a legendary mine. She clearly did a lot of research and her novel feels authentic and genuine in every scene.
Vengeance Road is an adventure from page one, an engrossing and impressive feat of storytelling that will make you want to ride out into the sunset with hat jauntily tipped and gold shining in your pockets.